My Journey to surrender has not been easy.
As a word, surrender implies ease, trust, faith, and a willingness to be vulnerable. Quite the opposite of my experience. So here I want to share my journey with surrender…my journey in becoming a mother.
Since childhood I carried an intense mother wound.  The wound of lack of nurture, support, and ultimately abandonment.  I navigated the first years of my life jumping from home to home, no roots planted, forced to learn independence very early. I remember feelings of extreme separation, like being tossed out into the ocean with no knowledge of how to swim.
That is how I viewed surrender. There was no trust or faith, only a feeling of constant defeat and failure because I was given no tools. I had built walls of protection around myself.  I felt the need to control everything. To make everything perfect, so I could be supported.
To climb mountains for others, at the expense of (and abandonment of) my own self.
The effects of a mother wound can feel so profound and far-reaching, I wondered how I could be called upon to mother another. I had not even learned to mother myself.
I learned hyper-independence.
I was 10 weeks pregnant when I reached out for support in the form of a therapist who was trained in assisting mothers during this transition. A transition they call matrescence. I also garnered the support of a birth doula (now friend).
Although still poorly understood, matrescence is a term that describes the process of becoming a mother that includes the physical, emotional, and psychological changes that occur during pregnancy and early motherhood. It is a transformative experience that has a profound impact on a woman's sense of self and identity. It not only involves the physical changes that come with pregnancy and childbirth, but also the emotional and psychological changes that come with the new role of motherhood.
I believe my matrescence began before I was pregnant. I was already learning to set boundaries and say "no".
Although I came to learn…I did not know the difference between a boundary and..a wall.
I was already learning to assert myself through my career. I was already learning to release expectations placed on me by society and even my family. I was already wanting to be a part of something bigger than myself.
But then that word kept popping up that I did not know what to do with—In all my seriousness.
Surrender.
After years trying to control my life, I wanted to find out what that meant for me personally. Quite literally, I packed my car and drove alone from Dallas, Texas to Evanston, Wyoming. I told very few people I was doing this. I just had a strong urge to be in the embrace of the outdoors–and not in a mainstream way—I wanted solitude.  I wanted that connection to something greater than myself. To be immersed in Her beauty and Her power.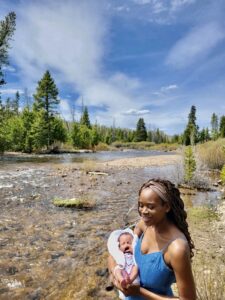 Nature became my Mother again. The only time I felt a great sense of peace, connectedness, and joy. She inspired awe and wonder in me. Again.
She taught me surrender.
Surrendering to being completely present with the natural world. To observe Her beauty and power.
Surrendering to the natural cycles of my life, and my body. The ebbs and flow…the learnings and changes.
Surrendering my need for control and allowing myself to be guided by the natural rhythms and patterns of the world. Trusting the wisdom and intelligence of the natural world and accepting that sometimes (most times)…things will happen beyond my control.
And when my daughter was born, I had to fully surrender to the process.
I was reborn.
Motherhood has brought me to my knees in surrender…in awe…in wonder. To my altar, returning me to my body.
To my Mother.
I see You. I am You. I will care for, nurture, and protect You.
Read more in my monthly newsletter "Humm", CLICK to subscribe http://intuitive parents.substack.com